FlightScope Mevo+ SIG8 Golf Simulator Package
PGA Sale: $300 Off Flightscope Mevo Plus!
Mevo Plus SIG8 Golf Simulator - Exclusively at Shop Indoor Golf
Shop Indoor Golf's SIG8 Mevo+ Package is the best of both worlds...
With an 8'W screen it's a smaller option that's packed with features to deliver the perfect mix of entertainment and accuracy - all while still hanging around our more affordable simulator class!
With everything you need to get your home golf simulator set up and host a golf party, it's no wonder the FlightScope Mevo Plus SIG8 is one our most popular golf simulators.
Also available in our more affordable Mevo+ Bronze and our larger Flightscope Mevo Plus SIG10 package.
---
---
What's Included In The FlightScope Mevo+ SIG8 Package:
Mevo Plus Launch Monitor, USB Charging Cable, Carrying Pouch and Free App for Mobile Device
50 Metallic Stickers
E6 simulation Software Package (5 Courses, 17 Practice Ranges)
SIG8 Golf Simulator Enclosure
Side Barrier Netting
Landing Pad Turf
Choice of Golf Mat
Golf Simulator Projector
15'L HDMI Cable & Lightning to HDMI Adapter
Ceiling Mount
---
Here's What You're Getting
Mevo+ Launch Monitor
The Mevo Plus provides real time performance data to help you train and improve with every club in the bag on the range, on the course, and in your home.
What We Like About the Mevo+:
Radar Doppler Tracking
5 Simulated Golf Courses (E6)
17 Practice Ranges & Darts Mini Game 
Action Video Clips With Data Overlay
15 Accurate Performance Data Parameters
Save, Upload, and Share Each Practice Station
Rechargeable Battery - up to 2 Hours Continuous Use
E6 Golf Simulation Software
The FlightScope Mevo+ includes an E6 simulation software package. The package includes ownership of 5 golf courses:
Aviara

Stone Canyon

Wade Hampton

Sanctuary

Belfy
The software package also includes 17 different practice ranges & a darts mini game.
Pro Package (Add-On)
With the Pro Package Add On, you unlock 11 more metrics for your MEVO+ to track. Paired with Fusion Tracking Technology, your MEVO+ will be more accurate and consistent, improving your performance one swing at a time. 
Club Path
Face to Path/ Target
Vertical/Horizontal Swing Plane 
Low Point
Dynamic Loft 
Vertical Decent Angle 
Curve 
Speed Profile 
Acceleration Profile 
Shop Indoor Golf SIG8 Golf Simulator Enclosure
The SIG8 screen and enclosure pairs beautifully with the SkyTrak. Built tough, the SIG8 screen can withstand the hardest of golf shots time after time. Unlike other screen systems, we designed the SIG8 so that it can fit within compact spaces with as little as 9'W. Due to the squareness of the screen, the image will fill in 80% of the screen - there will be some white space above and below the image.
Features:
Image Fills In 80% Of The Screen in HD
Premium, Handcrafted, Made in the USA
Powder Coated Steel Frame
Tight Knit Polyester Impact Screen
Side Barriers (in case you have the sh*nks)
Dimensions: 8'4"H x 8'4"W x 5' D
Panasonic PT-VZ580U Golf Simulator Projector
With WUXGA (1920×1200) resolution and  5,000 Lumens,  your golf simulator projector will have the best image and color quality for your indoor golfing experience. A 15' HDMI cable and a Lightning to HDMI Adapter are also included with your projector!
Landing Pad Turf
The landing pad is made specifically for the SIG8 golf simulator. It fills in the area between the screen and the hitting mat making it aesthetically pleasing and protects your floor from golf ball strikes.
Ceiling Mount
 The Ceiling Mount is a permanent option that ensures your projector is out of the way and safe from any stray golf shots.
Fairway Series 5' x 5' Golf Mat
Our Fairway Series mat is 5' x 5', roughly one inch thick and can hold a real tee. Ideal for those seeking realistic feel.
SIGPRO Softy 4' x 7' Golf Mat
The SIGPRO 4' x 7' is easy on the joints, and has enough space to set a launch monitor on the mat so it is level with the ball.


SIG8 Golf Simulator Flooring
Shop Indoor Golf's simulator flooring is a great option for those seeking the clean, professional look of a custom install - with the convenience of a done for you, easy to assemble kit.
It combines the best of two worlds: an integrated hitting strip embedded into the floor for full swing shots, surrounded by a putting green with four cups for dialing in your short game. 
Not only does this look great, but it also conserves space by reducing the footprint of the hitting surface and maximizing the putting and chipping surface. That's the beauty of SIGPRO's golf simulator flooring.  
---
FlightScope Mevo+ Specifications

Dimensions: 6.8" x 4.6" x 1.2"
Weight: 1lb
Color: White/Red
Technology: Doppler Radar Tracking
Battery Type: Li-Polymer
Battery Life: Up to 2 hours on full charge
Positioning: Place approximately 7'-9' behind the ball
---
SIG8 Setup & Dimensions
SIG8 Enclosure Specifications and Space Requirements
Generally speaking, the SIG8 Enclosure is able to fit into most spaces.
Full Enclosure:                     Screen:
Width:    8' 4"                     Width:       7' 7"
Height:   8' 4"                     Height:      7' 7"
Depth:   13' 7"                    Diagonal: 10' 8" 
Make sure you can swing your club comfortably in your desired space, as you may need more than 9' high ceilings if your swing requires it. You can always place your setup in a space that is larger than the recommended space requirements.
Assembly
The resources below will walk you through the assembly portion of your new frame and screen. Using the color coded pipe kit and connectors, set up your frame first then attach your black surround, impact screen, foam padding, and side barrier netting. 
To download to full SIG8 Assembly Manual, Click Here.
For Flooring Assembly, Click Here.
SIG8 Assembly Animation
SIG8 Assembly Video
Free Shipping
Like many of our customers we don't really care much for paying for shipping. So we provide FREE SHIPPING on ALL ORDERS for all our products to the lower 48 states.If you are outside of the continental USA and would like to place an order please contact us at support@shopindoorgolf.com.
Order Confirmation
Once an order is placed, a confirmation email will be sent. This means that Shop Indoor Golf has received the order in the system. Once the order is received, Shop Indoor Golf immediately reaches out to its suppliers to confirm the item ordered is in stock and ready for shipment. If the item ordered is out of stock, on backorder, or otherwise unavailable, Shop Indoor Golf will let the customer know via email. Once the product(s) ordered are ready for shipment, the item(s) will be shipped.
Shipping Time & Method
All orders are shipped within the lead time posted on the product page. This is located at the top of the product page right below the "Add To Cart" button. Most shipments are shipped via FedEx or UPS. We do not ship to APO/FPO or PO BOX addresses. Depending on the value of the item being purchased, orders may be shipped with signature confirmation required. All SkyTrak, TruGolf, and Foresight Golf orders are shipped with signature confirmation required. This means that an adult over the age of 18 must be present at time of delivery to sign for and accept the product. If you will not be home at time of delivery, please contact support@ShopIndoorGolf.com and we will work to arrange a will-call pick up at your nearest UPS or FedEx location.
Order Shipment
An email with tracking info will be sent to the customer within 24 hours of the order being shipped. If you have not received tracking info within 3 days after the lead time posted at the top of the product page, please contact us at support@ShopIndoorGolf.com. Once an order has shipped, cancellation will not be permitted. Please see "Cancellations" below for more info.
Once an order shows as "Delivered" to the shipping address, as a result of the tracking information provided through the freight/shipping company, Shop Indoor Golf is not responsible for any "nonreceivable" situation. No replacement or refund will be given on "Delivered" orders. 
Receipt of Products & Damages
An adult must be present upon delivery of products to inspect and sign for goods received. It is very important that you thoroughly inspect the merchandise for any damages that may have occurred during transport. Contact us immediately if your package arrives damaged. A claim will be filed with the carrier, who will pick up and return the package, which must remain in its original box with original packaging. Once the carrier picks up the damaged product, we will work with our suppliers to have a replacement shipped to you.
Manufacturing Defects
If a manufacturing defect is found, we will repair or replace it for you at no extra charge. If repair or replacement in not available, you will receive a full refund.
Returns & Refunds
At Shop Indoor Golf we know that things happen, that's why we're happy to offer our customers our 30-Day No Hassle Returns/Exchange Policy. If a customer needs to return an item for ANY reason, they're able to do so within 30-days, just pay return shipping & restocking fee. It's as simple as that.
All returns are subject to a 15% restocking fee.  
Customers must reach out to Shop Indoor Golf in order to arrange the return, and to obtain a return authorization number. Once your return is received and inspected, we will send you an email to notify you that we have received your returned item. We will also notify you of the approval or rejection of your refund (we have to check to make sure the item is in good working order and there are no signs of product damage).  Once your return is approved, your refund will be processed, and a credit will automatically be applied to your credit card or original method of payment, within three days to three weeks pending your payment method and/or your bank's policy.
Products eligible for return/exchange must be like new, undamaged, and must contain all original product packaging and accessories. 
If a product exhibits visible signs of wear and use or is missing items, to the extent that Shop Indoor Golf will no longer be able to re-sell the product as a "new" item, the returned product will be classified as a refurbished unit and a 40% restocking fee will be applied.
Used/Certified Pre-Owned products are ineligible for return.
FlightScope Return Window
FlightScope return policy is 30-days and supersedes the above listed policy.
HD Golf Simulator Return Policy
All HD Golf simulator sales are final and ineligible for returns - this supersedes the above listed policy.
TruGolf Return Policy
All TruGolf simulator sales are final and ineligible for returns - this supersedes the above listed policy.
Cancellations
Orders must be cancelled within 24 hours to avoid a 3% merchant processing fee. Cancellations for orders which have been shipped, the customer is responsible for shipping costs as well as the 3% merchant processing fee. If you need to cancel an order, please do so immediately to avoid return shipping fees. Orders cancelled after an item has shipped will be treated as a regular 30-day return item and return shipping & restocking fees may apply.
Why Buy From Shop Indoor Golf?
We know you have a choice in online shopping, and we want to do all that we can do to earn your business. We not only want to earn it, but we want to keep it as well!

Here are the top 8 reasons to buy from Shop Indoor Golf
100% Safe and Secure Online Shopping - Know that every transaction that takes place on our website is 100% secure.  If you'd like to learn more, see our Online Security page.
Customer Service Is Our Top Priority - Plain and simple, we are here for YOU, the customer. Our goal is to deliver the WOW factor in service. We strive for excellence in customer service and are driven to provide value at all times.  You can expect communication from us immediately after your order is placed, and also when your product ships.  To this day, every order still receives an email from our owner personally thanking you for letting us earn your business.
Lowest prices - We negotiate the best prices with our manufacturers to bring you the lowest cost golf gear you will find anywhere.  We are so confident in our prices that we provide a price match guarantee to all our customers. 
Free Shipping - Like many of our customers we don't really care much for paying for shipping. So we provide FREE SHIPPING on ALL ORDERS for all our products to the lower 48 states.
No Hassle Returns - At Shop Indoor Golf we know that things happen, that's why we're happy to offer our customers our 30-Day No Hassle Returns/Exchange Policy. If a customer needs to return an item for ANY reason, they're able to do so within 30-days, just pay for return shipping. Restocking fees may apply. It's as simple as that.
Quality - We understand what it can be like to purchase online without actually seeing and touching the product itself.  So we want you to know that all the manufacturers on this site are hand chosen by our owners to ensure you receive a quality product. All items are inspected (twice) before leaving the warehouse so we know that you'll be happy with the product that arrives at your door.
Authorized Dealers - Shop Indoor Golf is an authorized dealer for every brand that we carry.  You can rest easy knowing you will receive the full manufacturer's warranty with every purchase.
Fully Insured Shipments - Every shipment that leaves our warehouses is fully covered in case of a lost item or damage.  Please refer to the Shipping & Returns tab to learn more about our policy.
Here at Shop Indoor Golf we strive to make sure that we offer the absolute best pricing on all of our products. However, we're not perfect, and if you happen to find a different online store that has the same item for a lower price then please let us know and we will refund your original payment for the difference.  Shop Indoor Golf strides to ensure you feel confident that you are getting the best deal for your purchase.
Shop Indoor Golf Price Match Rules and Conditions:
The buyer must purchase from our store before requesting a price match guarantee
Price Match is not available on any products on sale or promotional offers
Price Match is only available on exact/same, in stock products with a clearly displayed price (not price implied after promotions and coupons)
Price Match is only valid on items sold by Authorized Internet Resellers (No brick and mortar stores such as Golf Galaxy or Edwin Wats, No discount or auction websites such as eBay, Amazon, Overstock.com, Wayfair.com, No wholesale stores such as: Costco, Sam's Club)
Price Match is only valid for redemption within five days following the purchase
Excludes certain vendors. Please contact us for more details as these are subject to change.
At Shop Indoor Golf we think of our customers first!  We pride ourselves on focusing on what our customers want and need.
Quality Products --- At Shop Indoor Golf, we selectively pick each and every manufacturer to ensure our customers receive the most durable high quality products. As active golfers, we only offer products that we have tried ourselves and that have received the highest accolades in the industry.  
Customer Service --- We provide top of the line customer service by live chat, phone or email.
Lowest prices --- We negotiate the best prices with our manufacturers to bring you the lowest cost golf gear you will find anywhere.  We are so confident in our prices that we provide a price match guarantee to all our customers. 
If you have any questions about any of our products feel free to call us at 1 (866) 723-0311 or send us an email at support@shopindoorgolf.com
Customer Reviews
Write a Review
Ask a Question
Filter Reviews:
process
golf shop
anyone
request
manner
organization
quality personnel
management
expectations
care
04/23/2022
Steven M.

United States
Excellent product
The indoor golf shop was awesome. Helped me through the whole process. Would recommend to anyone interested in a simulator.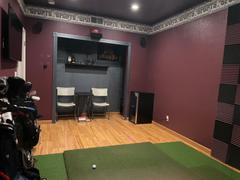 12/27/2020
Carlos M.

United States
Great \customer service.
I'm pasting below am email recently send to Shop Indoor Golf. Just wanted to get back to you to thank you for all your help, and extend my thanks to all of those involved in the process. As I indicated over the phone, the customer service at Shop Indoor Golf is more than outstanding. You did not only took care of my request, but in an extremely friendly and polite manner, that is beyond expectations. Please forward my comments to your management, they should be aware of the quality personnel they have in the organization.